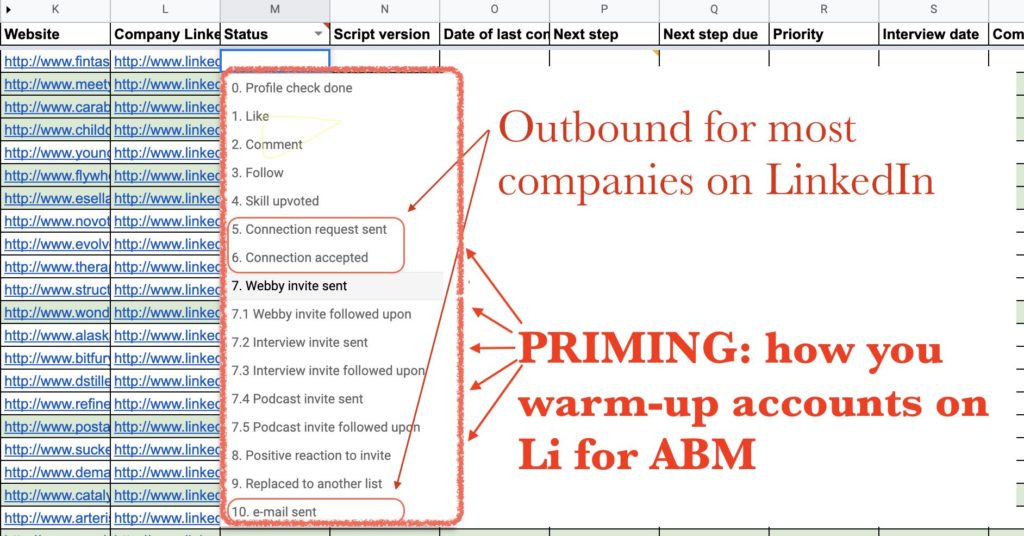 The simple solution to pretty much all your pipeline problems is a 7-letter word. (Scroll for the answer if you're impatient…)
Let's see what most B2B companies struggle with when it comes to pipe and going to market:
– leads not converting (maybe they weren't even leads in the first place?)
– sales people being ghosted
– low conversions and churn throughout the pipeline
What these companies are very likely not doing is…
PRIMING
In other words, warming-up
– the audience/market and
– individual prospects
…before actually trying to get them on a call.
Attached screenshot is of a GSheet we use to track progress with prospects before they go in our CRM.
What's apparent is that there are a variety of value-creating, experience-enhancing things you can do to build a relationship… so you don't have to resort to cold invites to sales-y conversations.
What you can't see from this one screenshot:
– the activities that result in demand for our services – making our market problem-aware.
– the other marketing sequences we use to capture the demand…
meaning that priming is – however important – just one piece of the go-to market puzzle.
(It's a major piece, though!)
What you also don't see in the screenshot is the compliments prospects tell us about how wow and nice and valuable it is for them to be on the receiving end of these sales and marketing plays.
(Sorry for bragging, but this really feels good.)