Get
big clients

for your tech company
Transition to demand gen while launching pipeline-boosting account-based campaigns in 3 weeks, without expensive tech.
Put a time in our calendar!
Companies that grow with Klear.
Cold lead-generation is not working. It's also ruining your reputation.
There's a better way!

Klear helps you drive high-ticket deals using marketing & outreach that B2B buyers ♡
You get end-to-end account-focused, revenue-generating content and campaigns.
We'll run:
Market Research & ABM Strategy
Content and other asset-creation
Organic and paid social campaigns
Outreach & account activation
…all aligned with sales in a unified revenue mechanism.
Klear's presence at Infinityn is an important part of our growth and success. We love their ideas and insight, their revenue-focus and experience in account-based marketing. They are instrumental for us in multiple ways: from strategy to written- and video-content creation, and also training our team.
Tamas Motajcsek,
Business Success Director - Infinityn
As a result of working with Klear, we now have positioning and messaging that differentiates us and makes promoting our services more successful. Klear also drive a content engine and campaigns that contribute to pipeline and revenue goals. They are also key in training our marketing team. Dan and the team are fun to work with, never short on ideas - highly recommended!
Kate Varvedo,
Head of Marketing - Infinityn
Klear really knows ABM and the technology space - they bring highly implementable ideas to the table and have been great at opening our eyes with their outside-the-box thinking. They gave a massive boost in re-building our marketing from the ground up and played an important role in planning and educating our team. I like their systems and it's great to work with them.
Dóra Rajtmár,
Head of Marketing - Hifly
Klear is a great revenue marketing/ABM agency that gets results. They bring a solid amount of experience and the most up-to-date insights and knowledge in B2B the table. Klear has played a key role in shaping our thinking and operations around aligning marketing and sales. I was particularly pleased with the growing engagement on our content and the show-up rate of our first webinar-campaign, orchestrated by Klear.
Tom Cseh,
Former Commercial Director - Hifly
Growth is hard when heads are spinning over content, branding, social and all the activities tech companies think they "need to be doing".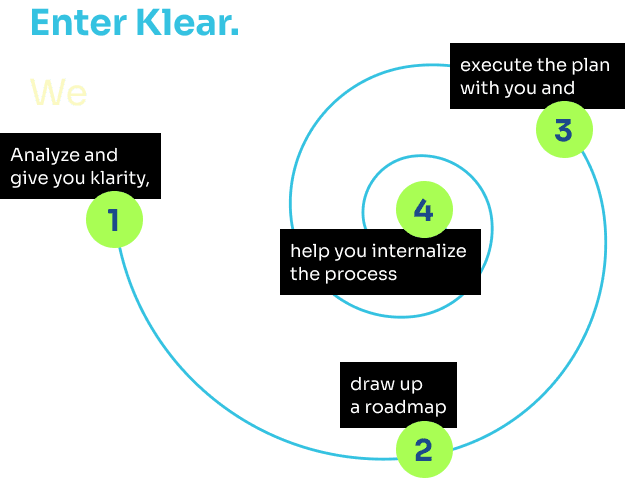 The Result: Plans & Action
proven, evergreen growth-mechanisms
aligned marketing and sales campaigns
buyers who have an irrational bias for
your brand, before they ever talk to you