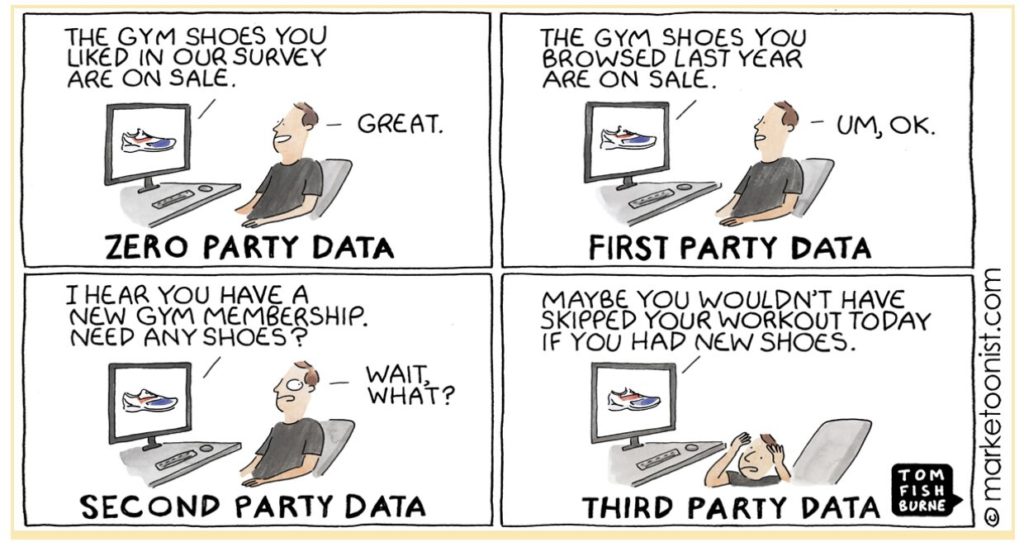 The attached image is the most important comic you'll probably see this year.
If you're in sales, marketing or in the founder's seat, you need to understand what zero-party data is, how to get it, and how to use it to grow technology or service-businesses.
Right now, your sales and marketing teams still (to a degree) have the luxury of relying on various data sources – four types, to be exact.
But the (seemingly) bad news is: the world is moving toward a cookieless world, where you'll gradually lose the ability to collect and access first-second-third-party data.
I see this as an opportunity for those who
1. realize that this is in the interest of buyers' privacy, which is a good thing
2. will act in time to implement zero-party data strategies
We've even updated "the famous 2-minute Go-To-Market Assessment" with new focus about zero-party data collection. It's that important to GTM.
If you haven't done the Assessment" – it's not too late (hopefully
) »»
https://lnkd.in/gs7ie5GU
If you want to understand "the data party" then here is a TLDR:
0. Zero-party data: the info your visitor willingly provides for you by answering questions Think forms, calculators etc.
1. First-party data: putting cookies on users' device who visit your own website. Think Google Analytics.
2. Second-party data: buying someone's zero- or first party data, like buying info from G2 or other review sites.
3. Third-party data: data bought from data aggregators (who collect 2nd party data). Think ABM platforms, Zoominfo and the like.